How to Play Fallout 1 on Windows 7
We at Fallout Pages encourage everyone to play the classic Fallout games because they were made with passion and because that's one way for you to learn more about the Fallout LORE. 16 years ago, on September 30, 1997, Fallout was released. After so many years, I'm still in love with it! I can play it every time and it's still not boring. Anyway, enough about me, here's how to play Fallout 1 on Windows 7.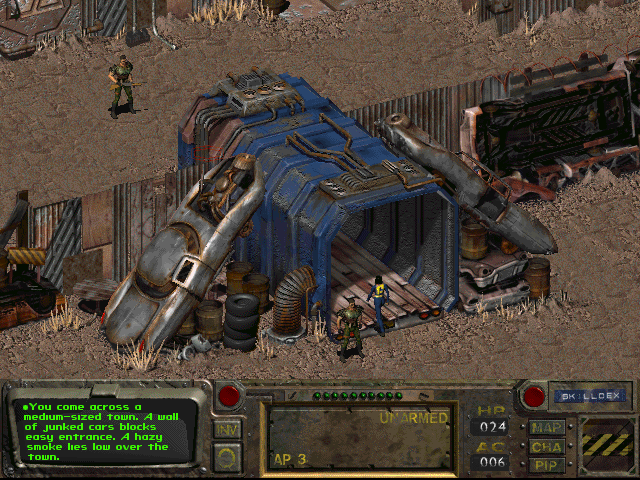 Fallout 1 on Windows 7
This kind of game was never done before... Not only Black Isle were the first to do it, they did it extremely well. Everything looked amazing, felt convincing and you really shaped your story in a post-apocalyptic USA, where people were struggling for survival in war-struck cities.
Here's what you will get by playing the classic Fallout games:
a cool intro that never gets old; Ron Perlman did an amazing job;
great music and sound effects that defined the genre;
a non-linear story that is influenced by the choices you make during the game;
lots of choices, you can play the game over and over again and not get tired;
subtle references to pop culture: e.g. the Elvis painting, Star Trek, Doctor Who;
a car! yep, there's a Highwayman you can repair and use in Fallout 2;
cool weapons, such as the Turbo Plasma Rifle;
there's always something more to find or a different way to play the game.
Straight out of your vault, with no knowledge of the outside world, except the location of another Vault, you start scraping bits and pieces of information together by talking to locals and, as you progress through the game world, you discover massive plot twists and an even bigger threat than your vault running out of water.
Fallout is so amazing that, having a character with 1 Intelligence, the entire script of the game is basically rewritten. Every dialogue is different, and if you haven't done that yet, I highly recommend you do it. Too fun!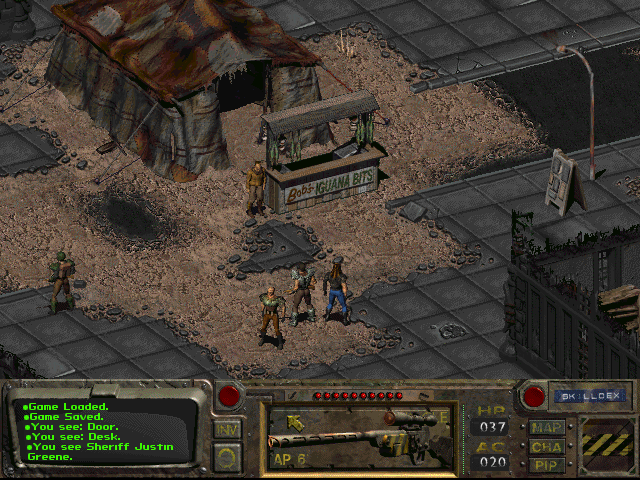 Here's How to Play Fallout 1 on Windows 7
One of the problems most Fallout fans face nowadays is getting the classic Fallout games to run on Windows 7. How to play Fallout 1 on Windows 7? Well, the easiest way is to get it from GoG.com. Why? Simply because their game is GUARANTEED to work on Windows 7. Besides, you will also get cool artwork, the manual, the soundtrack, wallpapers, the Fallout Bible (200 pages) and you don't need to patch the game; it has the latest version. I just installed my Fallout for testing and it ran perfectly from the first time; no fixes required.
However, if you just installed Fallout 1 and it doesn't work, here's what you need to do: download the High Resolution Patch. Unpack it INSIDE the directory where you installed Fallout. Usually, that's C:\Program Files\Interplay\Fallout\. Next, run "f1_res_Config.exe", set up the "Graphics mode" to DirectX 9, select your screen resolution, uncheck "Windowed", click the Enable button to activate the Hi-Res Patch and then click on the "Done" button. Now you should be able to run Fallout! So yeah, that's the solution to how to play Fallout 1 on Windows 7.
NEXT:
Fallout 1 Quick Start Guide
Still doesn't work? Here's one more thing that you can try. Good luck!
Tags: fallout 1 in windows 7, fallout 1 on windows 7, how to play fallout 1 on windows 7
Share with your friends!