Tidux Tweeted: Fallout 4 at E3 2015
As most of you know by now, Bethesda is having an important conference at Los Angeles Convention Center next month. Will they announce Fallout 4 at E3 2015?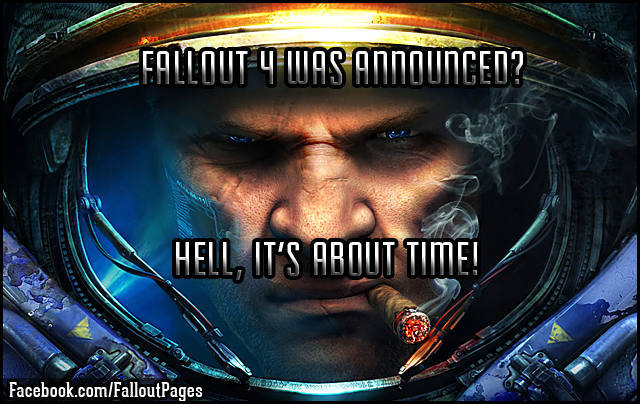 Will We See Fallout 4 at E3 2015?
Since Bethesda is announced their own press conference -- which they don't usually do -- then it has to be for something BIG. Most likely a game they are developing. That basically means either Fallout or Elder Scrolls. Possibly a new IP, who knows. Seeing as 'The Elder Scrolls Online' is hitting consoles this year, 'The Elder Scrolls VI' seems VERY unlikely. Which leads me to believe Fallout 4 at E3 2015 is going to happen.
Even more, according to a notorious video game insider named Tidux, we may be seeing Fallout 4 in stores by the end of this year. Tidux tweeted recently that we will be hearing about Fallout 4 at E3 next month. Why would you believe this guy?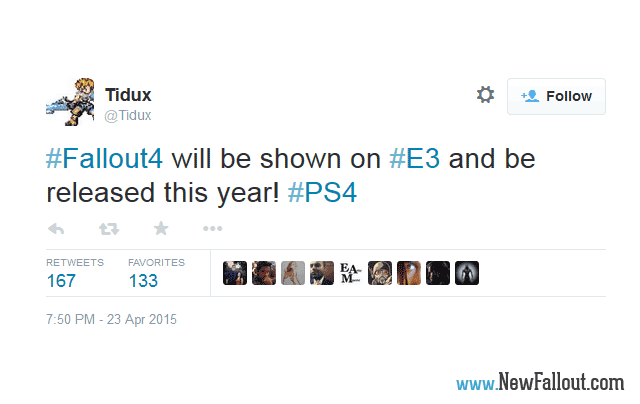 Well, Tidux has accurately leaked a few previous game news, such as the appearance of 'The Order: 1886' at E3 2014, the 'Uncharted 4' trailer, and the release date of a major firmware update for the PS4. In case you're wondering WTF is going on with that #PS4 hashtag, Tidux is a big PS4 fan, that's all. It doesn't imply that Fallout 4 will be PS4 exclusive, so don't even go there.
In a 2014 interview (scroll to 21min, 30sec) with German magazine GameStar, Todd Howard, the Game Director for both Fallout 3 and TES V: Skyrim stated that he would rather announce a project when is almost completed than release bits of information over a long time.
"We get asked a lot, I sort of tell people we're figuring things out. We're taking our time, we're extremely excited about it and the reason we're kind of holding back right now is because we want to wait until it's really there to show it to everybody. We don't want to kind of dribble it out, we'd rather say, you know, "Surprise, boom, here it is." And make sure that moment of learning about something and seeing for the first time is really... I enjoy those moments for other games so we'd rather hold back and wait and just surprise everybody."
If Bethesda will indeed have a major announcement with a trailer, gameplay footage, and a release date for Fallout 4 sometime this Fall (most likely on their usual October 23 date), I honestly wouldn't be surprised. There must have been a team, even a small one, working on Fallout 4 as soon as development on Fallout 3 ended. Don't forget that Bethesda DIDN'T make Fallout: New Vegas, so a core team could have been working on Fallout 4 for 6 years now, preparing for the Fallout 4 at E3 2015 big announcement.
So, what's your prediction for Bethesda's announcement this June? Will we get to see Fallout 4 at E3 2015? I guess only time will tell...
Tags: fallout 4 at e3 2015, fallout 4 e3 2015, fallout e3 2015
Share with your friends!