Where the F is Fallout 5?
We need to be cautious moving forward in the Fallout community as it has had many interesting twists, surprises and hoaxes on the road to Fallout 4. However, now that Fallout 4 has been officially announced, it is the obvious time to begin the wait for Fallout 5. To avoid any and all the mischievous mole rats who would like 15 minutes of Internet fame, we must analyze Fallout 5 closely. In this article we will discuss what could possibly be in store for us, with the highly anticipated Fallout 5.
First and foremost, we need to lay all our caravan cards on the table. Fallout 5 could possibly be a placeholder title for a project that has a much more massive scale, Bethesda might be revisiting "Project V13", or known to most as a Fallout MMORPG. Now that Bethesda owns all the rights to the Fallout franchise and has finished with two of their own Fallout masterpieces, which were revolutionary for the series, it might be a good time to revisit the idea.
Bethesda published "Tamriel Unlimited" to keep Skyrim fans busy for years to come, so who's to say they wouldn't do the same to fans of Fallout. However optimistic Fallout fans are, this is unlikely because Bethesda might not want to ruin the Fallout franchise for everyone by rolling out such explicit fan service for monthly payments of $10.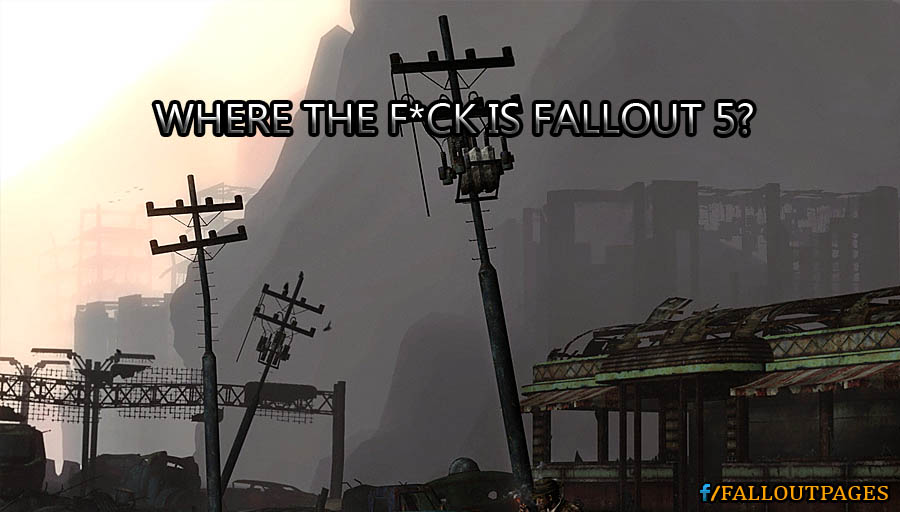 Fallout 5, Where are You?
The next order of business is to address the, not unlikely prospect that Bethesda could hand off the undertaking of Fallout 5 to another developer. Hopefully the lucky studio would have the resources to craft a Fallout game with the attention it deserves and in a reasonable amount of time, without rushing it.
We see examples of these kinds of developers all the time, one prominent example being Valve with Half-Life 3 (which might have begun development in 2004). In fact I'm sure many fans would be excited to see the Fallout series being improved upon by Valve, "Hey Bethesda, get on this!" Valve could expand upon the Fallout universe with incredible ease in utilizing procedurally generated content just like Minecraft or "No Man's Sky". Whether or not this is going to happen remains to be seen. Meanwhile, we can check out the nonsense coming out from friendly, *legitimate* people on Reddit, who claim to be Bethesda employees.
There is a third conceivable answer as to who exactly would be the creator of Fallout 5: Bethesda Game Studios. If Bethesda Softworks doesn't want to defile the Fallout series, they could appoint Bethesda Game Studios to the task of developing Fallout 5. BGS has proven that they are very capable of not only living up to expectations of enthusiasts but exceeding them. BGS would presumable take the basis of previous Fallout games and add upon them.
They don't need to reinvent the wheel with Fallout 5, they already did that with Fallout 3. BGS could simply choose a city in America (we won't even get into other countries yet), and create an colossal explorable environment that would increase our understanding on the Fallout lore and add new game mechanics, that would enthrall us for years to come. Word on when we should expect Fallout 5 has no come into play but, it will hopefully be soon.
No matter what your hopes are for Fallout 5, it's high time we hear something from Bethesda about it. We've been waiting far too long for an announcement for this game, and fans are too loyal to have to go through all this excruciating pain. We deserve something Bethesda, we are not to be trifled with! Fallout 5 is coming people, this viscous cycle has begun anew.
by Paladin Topaz
Tags: where is fallout 5, fallout 5 release date, waiting for fallout 5
Share with your friends!