Fallout 4 Trailer Hint at E3 2015
I don't care much for rumors, but this one seems rather interesting: apparently a Fallout 4 Trailer was listed as contracted work on a CG artist's LinkedIn profile. But how legit is this?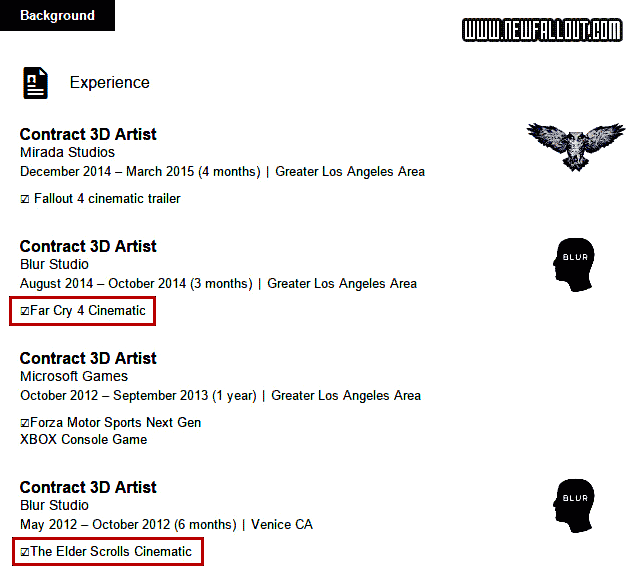 Fallout 4 Trailer at E3 2015
After notorious video game insider Tidux tweeted that will see Fallout 4 at E3 2015, now we stumble into this. Coincidence? Three Dog thinks not. For all their good intentions, it looks like those eggheads at Bethesda screwed up royally.
Can you be more specific? I am sick and tired of your Fallout 4 jokes, Fawkes! OK. Apparently 3D artist Guillermo ███████ (sorry we had to censor his name) works for a company called Mirada Studios. This company was hired by Bethesda for a four-month period to create the Fallout 4 cinematic trailer. Recently, Guillermo added this "experience" to his CV on LinkedIn.
But why would you believe this guy? Well, Guillermo has helped to create cinematics for other well known video games such as 'Far Cry 4' and Bethesda's 'Elder Scrolls Online'. So there's that. As usual, Bethesda doesn't comment on rumors, but there's a good chance that the new Fallout game may be revealed during their press conference next month, on June 14.
Mirada Studios offered their creative services before to major players such as Disney, Nintendo and Nike. They make content for film, TV, advertising and other forms of media.
So what? Does this means we will see Fallout 4 at E3 2015? Well, keep in mind that Bethesda revealed its first gameplay demo of Fallout 3 during E3 2008, three months before its release. Then, two years later, it showed the New Vegas trailer during E3 2010.
Although Bethesda has yet to formally announce their next Fallout game, there's a good chance we will get to see a Fallout 4 trailer at E3 2015. As Three Dog would say, fingers crossed!
Update 1
In a hilarious and Konami-like move, Mirada Studios started frantically e-mailing gaming news websites, such as Destructoid, asking them to take down the news. If this isn't a confirmation that Fallout 4 will be at E3 next month, I don't know what is... Nice job, Mirada!

Update 2
The 3D artist who unintentionally (or was it intentionally?) leaked Fallout 4's existence has removed his LinkedIn account. Knowing how serious Bethesda is about NDAs and leaks, he might actually lose his job, if not worse. Because of this "leak", people suspect Bethesda might actually push the Fallout 4 announcement for another date.
Tags: fallout 4 trailer e3 2015, fallout 4 at e3 2015, fallout 4 e3 2015, fallout e3 2015
Share with your friends!